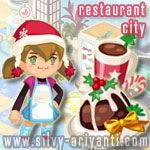 Christmas food is coming on Restaurant City game, an online cooking game on facebook. For all kinds of foods such as Starter, Main, Dessert and Drinks. They all are limited edition only and you have to unlocked it on level 1 before the times run out.
Some of the christmas food recipes are using rare ingredients, they can't be easily to find in daily bonus ingredient or in the market. They are Raisins and Orange :
Raisins

You can find Raisins on one of three Gourmet King's reward. If your friends choose Raisins and publish it to their facebook wall, you're lucky. Immediately click "Claim the Ingredient" and you just have one on your current ingredients, look on your Change Menu tab.

Orange

This is a giftable from Restaurant City, you have to become their fans first,then you can have one. Just watching on their wall for new post about Orange, so you can have one by by clicking the link they provided.
Below is the list of Christmas foods on Restaurant City game. Check it out!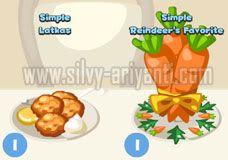 Christmas food on Starter Dishes that given by Restaurant City game are :
Latkas needs 2 potatoes, egg, onion.
Reindeer's Favorite needs 4 carrots.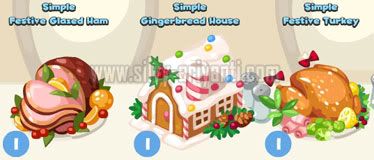 Main Dishes with christmas theme on Restaurant City game are :
Festive Glazed Ham needs pork, basil, butter, orange.
Gingerbread House needs ginger, flour, sugar, egg.
Festive Turkey needs turkey, orange, butter, bacon.
Christmas food on Dessert Dishes on Restaurant City game are :
Mince Pie needs flour, egg, apple, raisins.
Festive Pudding needs sugar, raisins, flour, orange.
Yule Log needs coffee, flour, cream, sugar.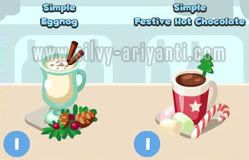 Drinks with christmas theme that given by Restaurant City game are :
Eggnog needs egg, vanilla, cream, milk.
Festive Hot Chocolate needs chocolate, vanilla, cream, milk.
All foods or dishes with christmas theme are LIMITED EDITON. So, hurry up to unlocked them ASAP on level 1, after that you can keep the recipes forever.
Additional Info :
On December 16th, 2009, I was succeed to have free recipe of Carrot Cake that given by Restaurant City. But there is something that confuses me, when I saw a picture of the recipe. It is same with Apple Pie. It's a different picture from their post.
Is it the right picture of Carrot Cake or is it a bug from restaurant City..? If so, hopefully Restaurant City teamwork can fix it ASAP
Happy Cooking!!
UPDATE 18.12.09 :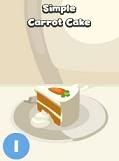 The picture of Carrot Cake has been fixed by Restaurant City teamwork. You can see on above picture, that's a Carrot Cake right picture. Great work, love the pic, thank you
Christmas Food on Restaurant City Game (Facebook)

- Reviewed by

Silvy Ariyanti

- Rating:

5

-

December 17, 2009

- By
Incoming search terms:
christmas cooking games, algo-charter_if, christmas dishes cooking games, christmas restaurants games