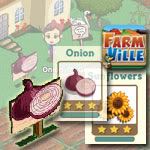 In earlier post, Crop Mastery on FarmVille Game (Facebook), I have listed crops by their Crop Mastery number for each star level. Now, I wannna explain about the next step of Crop Mastery, which is what happened when you reached 3rd star level of Crop Mastery on your farm.
Crop Mastery is all about how you upgrade your crops into PREMIUM crops. What is Premium means? It means that you will get an experience point (XP) of harvest which there was no XP if your crops still Non-Premium,you only get mastery point for it.



Crop Mastery has three star levels and you must have to reached them all to get premium crops. Each star has a certain target number of mastery for each crops. Here's the details :
1st star level

Reward that you've got : 25 XP and 500 coins.
Reward for your friends : 50 coins.

2nd star level

Reward that you've got : 75 XP and 1500 coins.
Reward for your friends : 100 coins.

3rd star level

Reward that you've got : 250 XP, 5000 coins and Mastery sign.
Reward for your friends : 150 coins.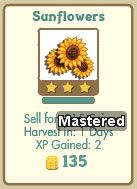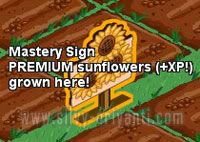 When your crops succeed to get all star levels, FarmVille will sign your crops as Mastered, as Premium crops and get XP harvest. As you've seen on the picture, my sunflower has become Premium crops. It needs 575/1150/1725 mastery number for 1st/2nd/3rd star. Put your Mastery sign on your farm and be proud of it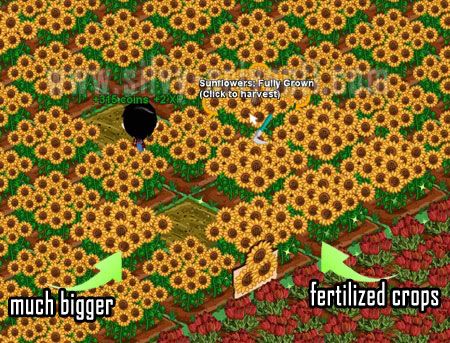 Please take a look on the picture carefully. I have marked two part, such as Premium Crops (much bigger) and Fertilized crops. Both of them have a larger size than the other crops. It means Premium crops size = Fertilized crops size.
If you planting the Mastered crops on your farm, then not all of them will fully grown as Premium crops. And your Premium crops will give you XP harvest with the selling price remains the same and no more mastery point. The others only give you selling price with no more mastery point,too. The number of XP harvest on Premium Crops is the same with the number of XP plant, means it different for each crops. Example : Sunflower has 2 XP plant, so when it upgrade into Premium crop, Sunflower has 2 XP harvest.
Special event :
This will happen when your Premium crops get fertilized by your friends. And the question is "How much XP will I receive? Is it double?". The answer is : NOPE, you will ONLY get XP fertilized, which is 1 XP.
Hope this post can helping so many wondering questions from Farmville gamers out there. Have a lovely day!
Crop Mastery on FarmVille Game (Part 2)

- Reviewed by

Silvy Ariyanti

- Rating:

5

-

October 28, 2009

- By
Incoming search terms:
farmville 2 crop mastery levels