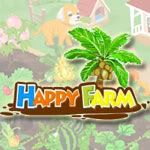 Happy Farm is one of many farming games on facebook. In my opinion, Happy Farm game is colorful now than the one before, i like to play this game everyday. The sound of music is really nice, so you can play this game with comfortably.
In Happy Farm game, you can buy seeds, plant it, removed bugs and weeds. It's an easy to play this game. There's so many seeds that you can buy such as grapes, strawberries, oranges even pomegranates. Here is the screenshoot of my Happy Farm on level 19 :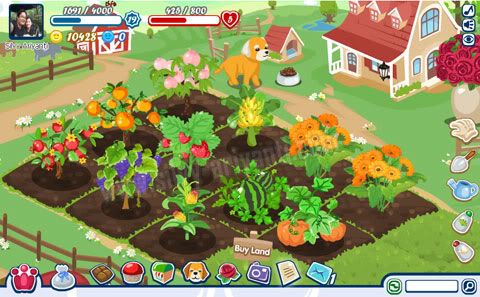 In Happy Farm game, not only fruits that you can grow. There are two kind of flowers, such as roses and daisies that you can plant. And you can send this flower with a bucket to your Happy Farm friends, and for return, you can get charisma points. Here's the flowers that I've had planted :

Just like another farming game, in Happy Farm you can have a dog to watch your farm from stealing by your friends. Now, you can give food to your dog. The dog food can obtained by collect nine different seeds with three of each. It's more easier now, I think
Some tips and trick to play Happy Farm Game :
Invite many friends to join with your Happy Farm, so you can get more faster to the highest level.
Try to have a dog to watch your farm.
Plant Daisy flower to get more higher charisma point.
Visit your friend's farm as often as possible within 1 hour, removed bugs or weeds to get more experience points.
Play safe. I suggest you not stealing your friend's crops, 'coz it won't give you experience point but you can have the coins when you sell the stolen crops.
Interested to playing Happy Farm game? Please login to your facebook account and go to this link : http://www.facebook.com/apps/application.php?id=57132175859. Happy Farming
>-
UPDATE 28.08.09 :
Happy Farm game has some new update. Such as pineapple seeds, gothic & lunar theme. Yeah! Btw, here's the screenshoot of my lunar happy farm theme :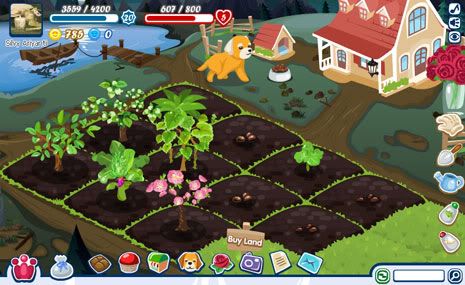 UPDATE 02.09.09 :
Happy Farm game has a new seed and flower, which is Kiwi and Carnation. Also a new background with autumn theme. It's pretty one,I think
UPDATE 09.09.09 :
Happy Farm game has a lot of new things, such as :
Added 6 new crops : coconut, grapefruit, apple, lychee, dragon fruit and gourd.
Added 1 new flower : purple tulip.
A new background with chinese theme.
You can posting on your newsfeed to asking a flower request to your friends.
UPDATE 28.09.09 :
Happy Farm game has a lot of new great updates :
Added 4 new crops : lemon, loquat fruit, cantaloupe and sugar cane.
Added 2 new flowers : daffodil and hyacinth.
Added 3 new props : mid-autumn glaze, autumn impression and ancient forest.
There is a new thing : Exchange Center. Read HERE for details.
Happy Farm on Facebook

- Reviewed by

Silvy Ariyanti

- Rating:

5

-

August 24, 2009

- By
Incoming search terms:
happy farm game, wwwfarmfuckups com, get energy on happy farm game, Apps Facebook Play Happy Farm, how to get bananas in happy farm, Play Happy Farm on Facebook, what level in happy farm can I plant carrots, www farm fuckups facebook, yhs-fh_lsonswrow, how to get banana for Happy Farm game