ST 12 is one of Indonesian famous band. Three personil like Charly Van Houtten (vocalist), Pepep (drummer) and Pepeng (guitar), has launching their second album with first single, P.U.S.PA (Putuskan Saja Pacarmu). Actually, in their first album "Jalan Terbaik" (January 2005), ST 12 has four personil with Imam Rush (guitar), but he has died, so, ST 12 must have to go on and dedicate the hit "Saat Terakhir" to memoriam Imam in this new album.
For this 2nd album, ST 12 has a huge plan to go international. They decided to reach out SouthEast Asia market. Why? Coz' they are trying to promote their melayu songs in other melayu country
Flashback: name of ST 12 is taken from street name that the band was exist, Studio OMS, Jl. Stasiun Timur no.12, Bandung, West Java, Indonesia. With P.U.S.P.A album, they're managed by Trinity Production label now.

In this 2nd album, ST 12 has keep melayu on their unique music style but arrange in modern style. First single "P.U.S.P.A" has a bittingly funny lyric
, the music is similar to single "Aku Masih Sayang" in their 1st album which has became a famous song,too. Below is the list of track songs in P.U.S.P.A album :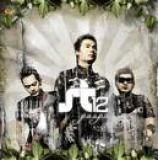 P.U.S.P.A

Track 01 : The song is about a man who like a woman, but she has already got a lover. That man decided to still waiting until she accept his invitation, to dishonest. I really like the music of this song, keep repeat it in my car

Jangan Pernah Berubah

Track 02 : A man who got really disappointed with his lover and want to keep beautiful moment without any changing coz' he's really loving her.

Cari Pacar Lagi

Track 03 : Read this "…I'm sorry, ku tak 'kan love you lagi…". Huahaha..i'm laughing when heard this, so funny . This song is talk about a lover who deciced to broke up and find another one again. The music is funny,too

Putri Iklan

Track 04 : This song is about a man who like a woman but he knows that he can't get the girl, too hard for him. Now, he's just revere her only.

SKJ

Track 05 : SKJ (Saat Kau Jauh). Talking about someone who has to be separated for a while with a little faith from his/her lover, still worries. This music in this song has make me a little bit surprised. ST 12′s songs never like this. But I like it, cool, a little groove-jazzy, love it

Saat Terakhir

Track 06 : This song is dedicated to memoriam their friend, Imam Rush (guitar), was one of ST 12 personil.

Tak Dapat Apa-Apa

Track 07 : Another track about dishonest. But in this song, the lover's realized that they got nothing of all this.

Cinta Jangan Dinanti

Track 08 : A confidence from a man who decided not hesitate to show up his feeling anymore. The music is groovy, just like a dance song.

Cinta Tak Direstui

Track 09 : The story is about the love that didn't get blessing and they have to separated.
P.U.S.P.A album is much better than the previous one, I think. They're keep on melayu but the music is arrange to many modern style. Watch for track 1,3,5,7 and 9. Finally, feel happy to ST 12 for their newest album, keep creative
Update 11.07.08 :
If you wanna know the lyric of P.U.S.P.A song, you can read to this link in Indonesian.
ST 12 – P.U.S.P.A (New Album)

- Reviewed by

Silvy Ariyanti

- Rating:

5

-

July 9, 2008

- By
Incoming search terms:
album st 12, album st12, st 12, album lagu st12, album st12 band, lugu st 12, st 12 berasal dari, st12 puspa cd, the best album ST 12