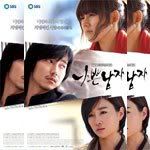 Bad Guy (Korean Drama-2010) is a Korean drama that became a public conversation. The story is challenging, making this drama watched by many people. The main actors, Kim Nam Gil, created a manly appearance, and identical with bird paper crane and lighter. Kim Nam Gil was originally known by Lee Han and had been played in another Korean dramas such as When Spring Comes (KBS2, 2007), Be Strong Geum Soon (MBC, 2005) and others.
Storylines Bad Guy (Korean Drama-2010) runs fast, full of mystery, strained and challenging. Even so, sometimes interspersed by humor when there is a scene of Shim Eun Kyung or romantic scene between Kim Nam Gil and Han Ga In. When a serious scene, will be accompanied by background music that sounds sad and scary, making us late in the story. Highly recommended for K-Drama Addicts!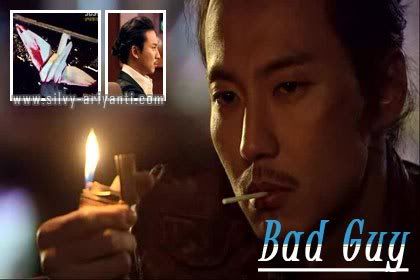 Title : Bad Guy / Bad Man
Genre : Thriller, Melodrama, Mystery
Episodes : 17
Broadcast : SBS (May 26th,2010 – August 5th,2010)
Cast :
Kim Nam Gil as Shim Gun Wook
Han Ga In as Moon Jae In
Kim Jae Wook as Hong Tae Song
Oh Yun Soo as Hong Tae Ra
Jung So Min as Hong Mo Ne
Shim Eun Kyung as Moon Won In
Synopsis :
The begin story of Bad Guy (Korean Drama-2010) is telling about Shim Gun Wook (Kim Nam Gil) that actually the son of Haeshin Group President, Hong and Madam Shin, who named Hong Tae Song. However, shortly, this change with DNA test that says he isn't Tae Song. Gun Wook later lived in an orphanage and was adopted by one family in America. After earning his degree PSD, he decided to return to Korea to find his family.
Gun Wook begin to approach Hong family through friends with Hong Mo Ne (Jung So Min). Hong Tae Ra (Oh Yun Soo), Mo Ne's sister, disagree if Mo Ne have feelings to Gun Wook coz he will gives a bad feeling for their family. Unexpectedly, their father, Hong, giving a job to Gun Wook, to become Hong Tae Song (Kim Jae Wook) personal assistant. For Gun Wook, this is an opportunity for him to take revenge against someone who had took his position as Hong Tae Song in the house.
Is Gun Wook really Hong Tae Song?
From the beginning episode, I was interested to watch this Korean drama. Unusual story, full of mystery and always intriguing in each episode. And while I know that the director of Bad Guy (Korean Drama-2010) is Lee Hyung Min, I immediately said, "No wonder!". He has directed the Korean dramas like Sorry I Love You (2004), Sang Doo! Let's Go To School (2003) and Winter Sonata (2002). All three that Korean Drama had a tragic storyline. Is Bad Guy will end tragically,too? Come watch this drama
Bad Guy (Korean Drama-2010)

- Reviewed by

Silvy Ariyanti

- Rating:

5

-

August 21, 2010

- By
Incoming search terms:
bad guy korean drama, bad guy, bad guy synopsis, sinopsis bad guy, bad boy korean drama, bad guy korean drama review, bad guy korean drama synopsis, bad guy review, Sinopsis drama korea bad guy, bad guy sinopsis